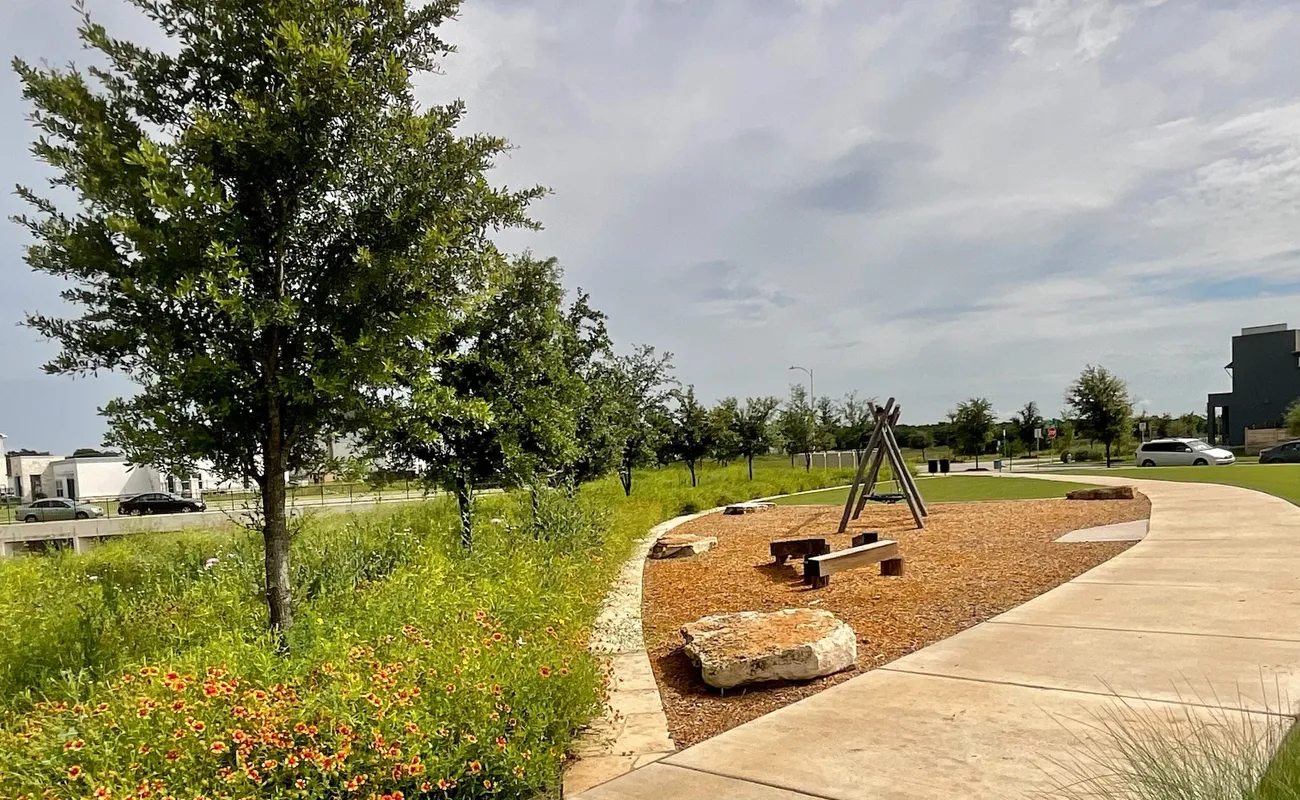 Onion Creek Metro Park District
Recreation at Your Front Door
The Onion Creek Metro Park District surrounds the Goodnight Ranch community and has constructed and enhanced 80 developed acres of "in-District" parkland, trails, wet ponds, streetscapes and playgrounds north of Slaughter Lane. An additional 40 acres of parkland will be developed south of Slaughter Lane over the next several years. The two sides of the District will be connected via developed underpasses and trailways.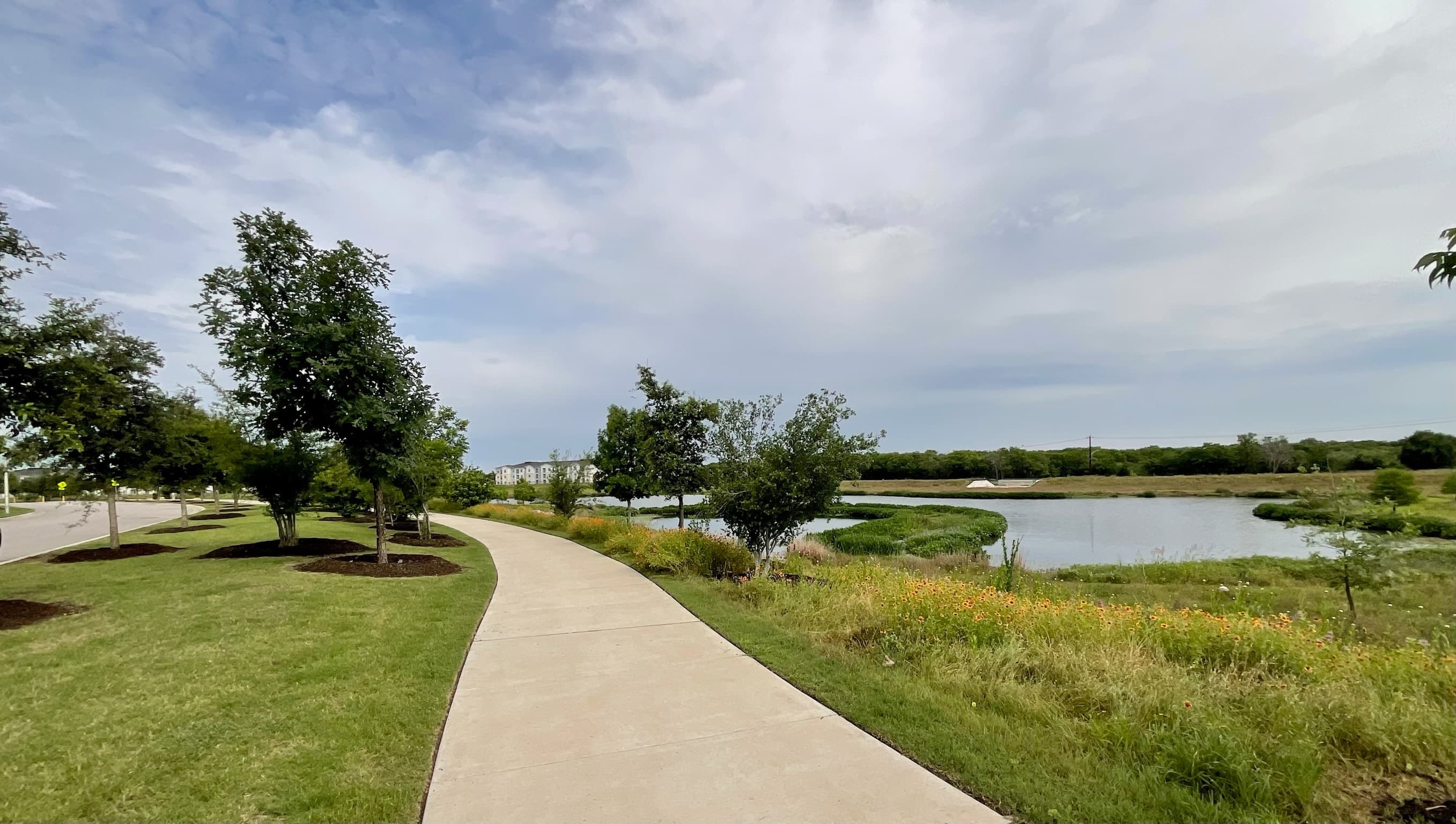 Adjacent to Goodnight Ranch sits the City of Austin's Onion Creek Metropolitan Park. The entire park is expansive, covering 555 acres. The District currently manages the 50 acres of developed open space at the SE corner of Vertex and Nuckols Crossing but residents have easy access to the entire 550+ acre Metro Park.

Enjoy a 3 mile stroll amongst the gorgeous wildflowers as you wind along the District's trailway system, stop and play at two unique playgrounds, sit, relax and watch wildlife at two, northside wet ponds and then hop over and hike up to 15 miles of nature trails at the Metro Park.

The District truly does offer the best recreational opportunities in southeast Austin! Where living meets play!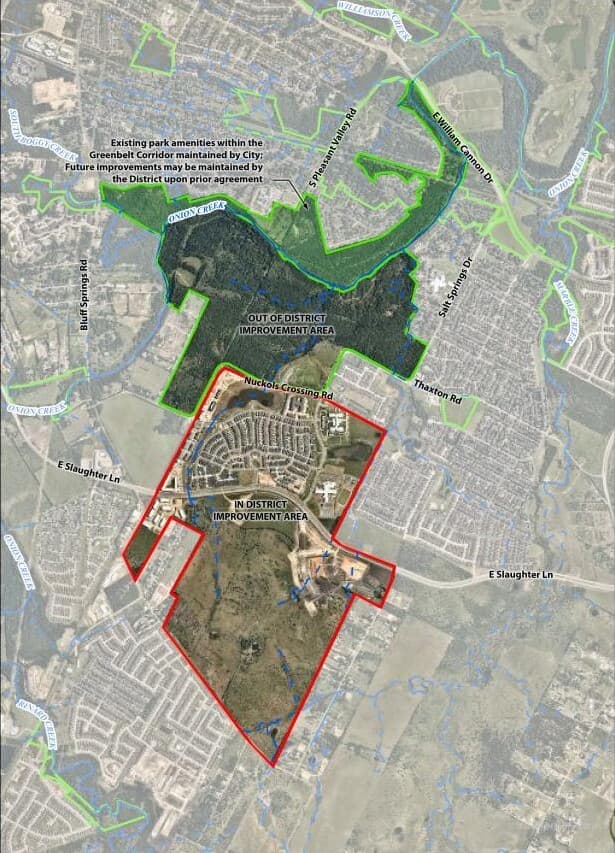 OCMPD "Out of District" Park Systems
Metropolitan Park
The 555 acre Onion Creek Metropolitan Park sits directly north of Goodnight Ranch and can be accessed using the crosswalks off Nuckols Crossing. The City of Austin developed a Master Plan for the Metro Park in 2015 and completed an initial 50 acre Phase I in 2020. The District operates and manages the landscape maintenance and irrigation of Phase I as part of a consent agreement with the City of Austin. The City will continue further development of the Onion Creek Metro Park as bonds are approved and appropriated to the park and the District will oversee and manage future development.
Residents are just steps away from beautiful open lawns, purposeful walking trails, shade trees, park benches and miles of nature trails. The City of Austin plans to install (2) 20ft. x 30ft. pavilions with picnic tables and BBQ pits during the summer of 2023 and the Austin Park's Foundation plans to construct the City's first All-Abilities Playscape (approximately 3 acres in size) at the Metro Park over the next 4-5 years.